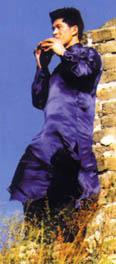 ZHANG Wei-liang is currently a Professor at the China Music Conservatory and Vice-dean of the Instrumental Department.
Devoted to the research and development in the performing skills of the bamboo flute, he is capable of executing the most difficult of techniques such as playing twelve chromatic scales while breathing and double-tonguing. Zhang Wei-liang vigorously studies other wind instruments as Dizi, Bawu, Shakuhachi and Xiao. He is also the Music Director of Hua Xia Chamber Ensemble (also HUGO recording artist) who have extensively toured Europe, Australia, Canada and the USA. In addition to his virtuosity in traditional Chinese music, which is published on two HUGO CD's, Zhang Wei-liang also has two contemporary world music albums on KIIGO.

The Heavenly Sound of Xiao is Zhang Wei-liang's first album,
Of Heaven and Earth is his second album on KIIGO.